Please fill-in our survey below, it only takes 3min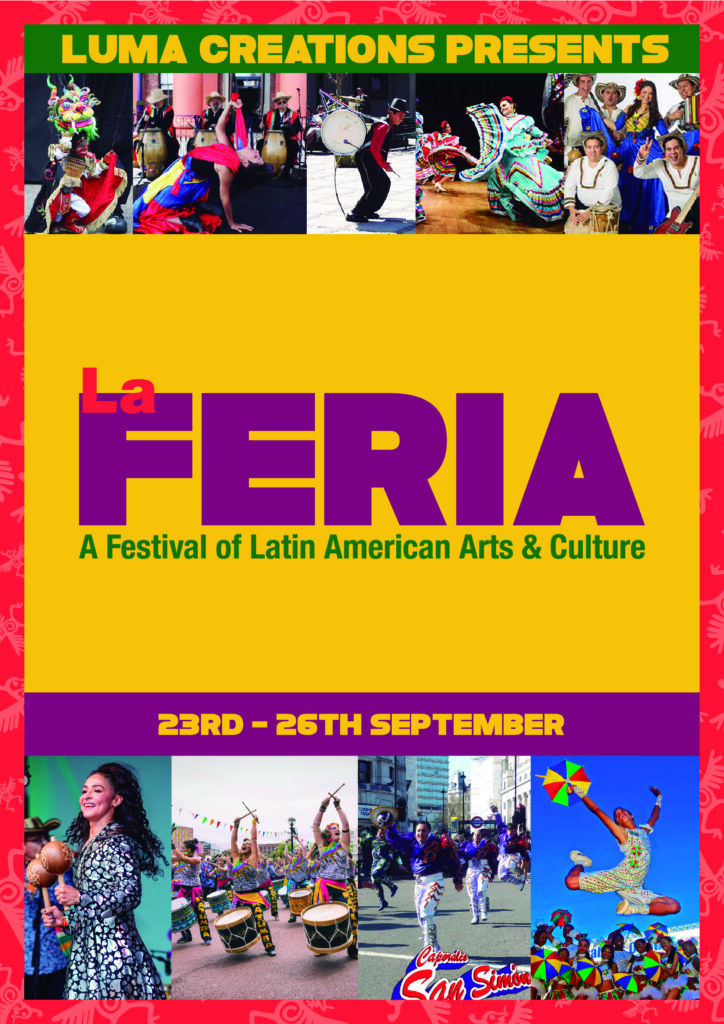 Latin American Music Night
8pm Thursday 23rd September @ District
LUMA Creations' La FERIA begins with a night that showcases the rich tapestry of Latin American music with the amazing Angelica Lopez and her eight piece band. Angelica  is a Latin American Lucas Music Award winner in the UK & Europe and honoured by her city (Cartagenas) for contributions to Colombian music. She has captivated audiences throughout the world with her explosive and energetic performances. LUMA Quintet will take you on a mesmerising journey of Latin American Music with songs from across the continent and KATUMBA Bloc, one of the leading drum ensembles in the UK, will mesmerise you with their powerful and rich variety of Brazilian rhythms. The UK's first pioneering female Latin DJ and radio host on the I Love Salsa Show, DJ Irmita, will bring the whole night together.
7pm Friday 24th September @ The Bombed Out Church
An evening of Latin American Dance, showcasing an exciting array of companies including: the visually impacting Caporales San Simon from Bolivia, beautiful Mexican Dances from the exciting Colibri Company, a wonderful offering from Liverpool's very own Katumba Block with the invigorating Brazilian Frevo Dance, our very own Luma Creations Candombe Dance performance, a wonderful presentation of original Cumbia from Colombia by Elkin Rodriguez and the mystical sounds of Mestisa, with their wonderful songs from South America.
Latin American Family Day
12-5pm Saturday 25th September @ Liverpool Central Library
A packed full day of exciting performances, workshops, stalls, exhibitions and much more. With the exciting Chinchinero (Chilean traditional one man band), the magical, master puppeteer and mime artist from Peru, Jose Navarro and the wonderful sounds of Colombian musician, Suso Mejia.  The wondrous Caporales San Simon. A chance to make beautiful lanterns, head-dresses and much more. A chance to check out some of the Latin American Dolls who are appearing in an exhibition in Centro Cervantes in October by SOMOSCR.
Street Pop Up Performances
11-3pm Sunday 26th September @ 2 locations:
Outside Liverpool Central Library & Castle Street
An exciting programme of street pop up performances across Liverpool City Centre with artists from Peru, Chile, Colombia, Mexico and more. With designated sites and performances throughout the day.