FREE training for unemployed learners
Our highly successful training programme is back!!
Sustainable Futures 
Developing Professional Practice Training Programme
Starting Tuesday 18th January 2022
Tuesdays & Thursdays 10am-12:30pm for 4 weeks
Taking place in John Archer Hall, 68 Upper Hill Street, L8 1YR
Fill in our online application: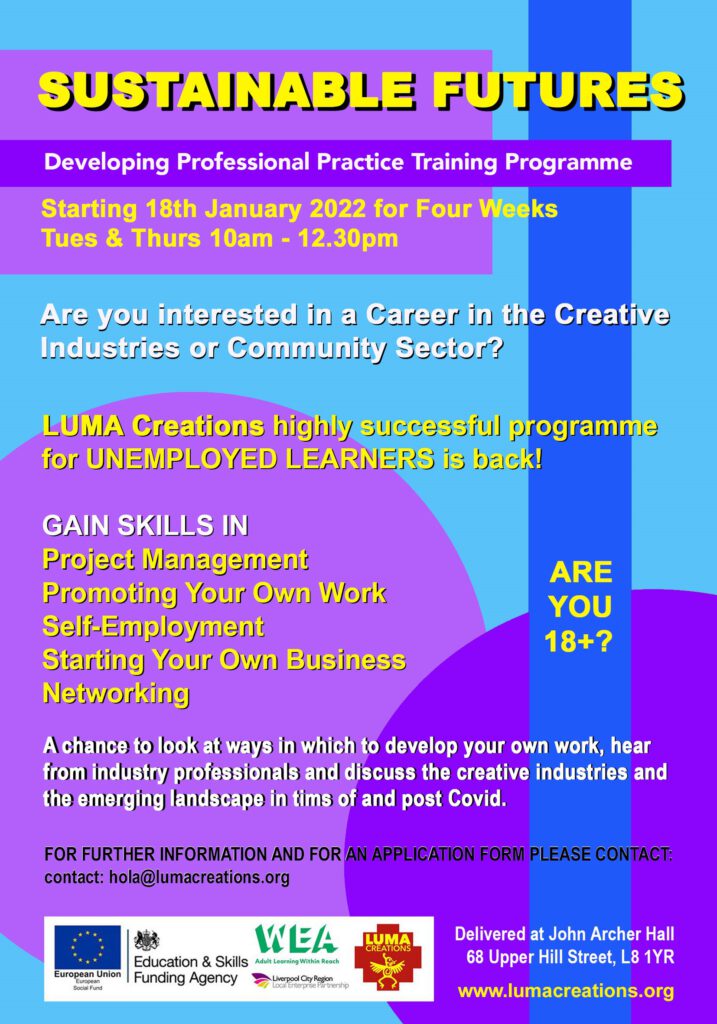 LUMA Creations is a cultural and arts organisation that believes in the power of diversity and that we have to act and carry the anti-racist flame at all levels; who we are, who we work with and who we represent. 
From our audiences and participants to our Board we strive to be many voices. Our team, of volunteers, staff and the board encompass the world. We are from Latin America, Africa, Middle East, Asia, Europe and the UK. 
We have always been committed to an inclusive practise where we promote everyone's voice, and we do this by our actions. We believe that we must stand against racism, not only in what we say and what we write on social media, but also in our strategy documents. We must act accordingly by supporting, advising and creating a platform for artists, arts workers, communities and partners, who are excluded because of their ethnic origins. 
A year has passed since the murder of George Floyd and the creation of the Black Lives Matter movement, which saw an international outcry for justice. We at LUMA Creations fully back Black Lives Matter and the many movements across the world for racial justice, and from our first day, 10 years ago, we have always strived to give voices to those who are too often silenced by platitudes and institutional racism.
LUMA CREATIONS believes fervently in collaborations and partnerships and welcomes the chance to work with artists, companies, organisations, communities, localities and local government in a variety of settings. Anything is possible and everyone has potential.
We deliver a range of events, performances, projects, weekly workshops, training and consultancies.
"There are a lot of groups who claim to be in touch with their roots and communities but don't practise what they preach. LUMA Creations is one organisation that is highly linked and deliver well organised and quality projects working with the communities they represent locally and nationally. I have trust in the organisation and their team whom I have worked with for over ten years"
Pax Nindi FRSA, CEO Global Carnival Centre & Vice President of the World Carnival Commission