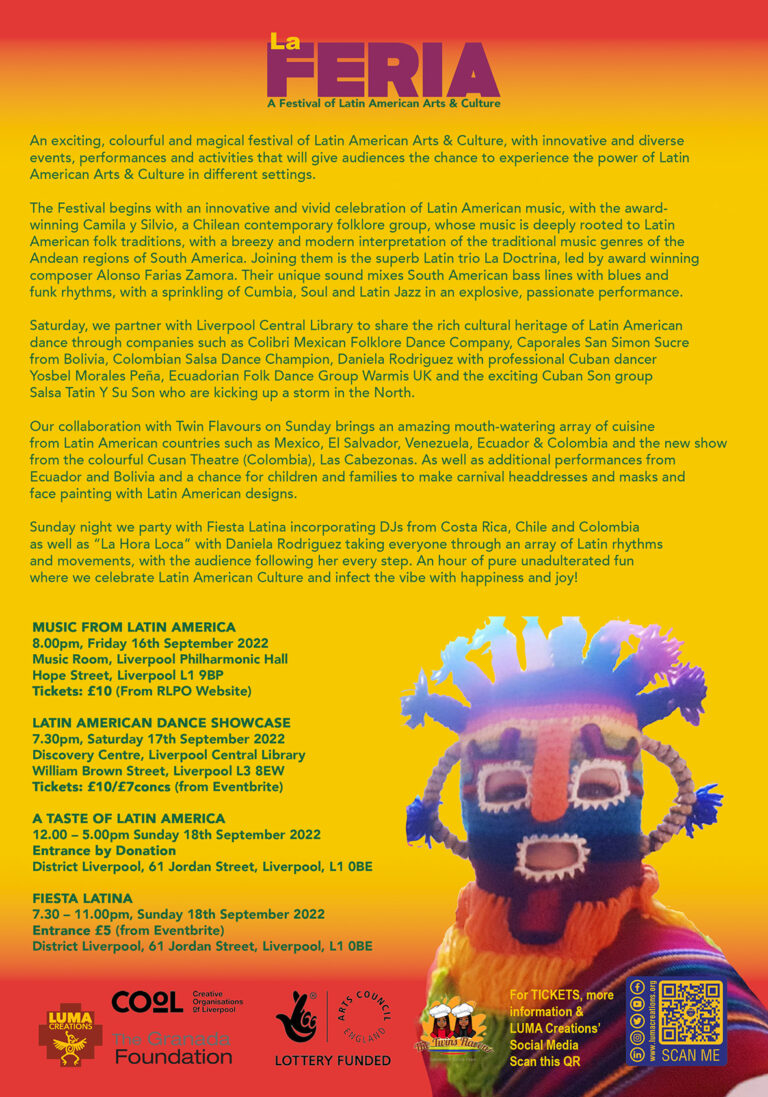 An exciting, colourful and magical festival of Latin American Arts & Culture
An exciting, colourful and magical festival of Latin American Arts & Culture is coming to Liverpool, with innovative and diverse events, performances and activities that will give all audiences the chance to experience the power of Latin American Arts & Culture in different settings.
The line-up features award-winning quintet Camila y Silvio from Chile at the Liverpool Philharmonic Hall; street performance by the colourful Colombian company Cusan Theatre; dance showcases at the Liverpool Central Library with Colibri from Mexico and Caporales San Simon Sucre from Bolivia; and a day of amazing mouth-watering array of cuisine from Latin American countries such as Peru, Colombia, Chile, Brazil, Cuba & Mexico and much more at District in the Baltic Triangle.
La FERIA 2022 promises to be an exciting, vibrant celebration of all thing Latin American. We have focused on the rich culture and diversity of the continent and the wonderful artists who will be performing this year. From the beautiful Andean melodies of the Camila y Silvio Quintet, to the magical Colombian street show, Las Cabezonas from Cusan Theatre, there's something for everyone.

We have amazing Latin American cuisine, fun activities for children and an exciting dance showcase. You can dance to the sounds of some of the top Latin American DJs in the region or simply immerse yourself in the full experience. For La Feria 2022 we bring you a tightly packed weekend of our rich, multi-cultural Latin America.
We are very excited to finally share with you the official video of our last year's #LaFERIA a festival of Latin American Arts & Culture.

Make sure to subscribe to our YouTube channel to stay up to date with all our productions.

Also, let us know your thoughts on the comments!
LUMA CREATIONS believes fervently in collaborations and partnerships and welcomes the chance to work with artists, companies, organisations, communities, localities and local government in a variety of settings. Anything is possible and everyone has potential.
We deliver a range of events, performances, projects, weekly workshops, training and consultancies.
"There are a lot of groups who claim to be in touch with their roots and communities but don't practise what they preach. LUMA Creations is one organisation that is highly linked and deliver well organised and quality projects working with the communities they represent locally and nationally. I have trust in the organisation and their team whom I have worked with for over ten years"
Pax Nindi FRSA, CEO Global Carnival Centre & Vice President of the World Carnival Commission